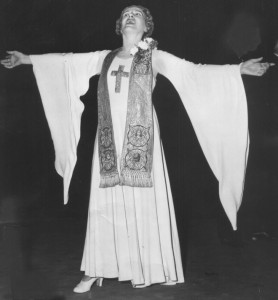 Aimee Semple-McPherson (October 9, 1890 – September 27, 1944), also known as Sister Aimee, was a Canadian-American Los Angeles based evangelist and media celebrity in the 1920s and 1930s. She founded the Foursquare Church, and was among the first to bring the relatively new Pentecostal movement to the forefront. She is considered to be one of the first "celebrity" pastors, and had a broad appeal among the social elite in Hollywood.
Today, she is a viewed by many as a divisive figure, even among Pentecostals. The fact that she was a woman is a problem for many, and her pair of divorces are even more problematic. However, God blessed her ministry in many ways, and the Foursquare Church continues to go into all the world and preach the Gospel.
Sister Aimee is one of the most intriguing ministers in modern church history. Love her or hate her, her effectiveness for the Kingdom of God cannot be disputed.
---
Her Books
McPherson is best known for her book This is That! which is part autobiography, part Bible teaching. First published in 1921, this book only covers the earliest parts of her life and ministry, but it most certainly makes for engaging reading. From our catalog, we also have Divine Healing Sermons, which contains eight sermons on the subject.
Both are available in all the right places.
This is That!
Amazon  —  B&N  —  iBooks  —  Kobo
Divine Healing Sermons
Amazon  —  B&N  —  iBooks  —  Kobo
---