Because who doesn't love a good coloring book?
Jawbone Digital has been republishing classic Christian books since 2011, but we've recently stepped into the adult coloring book market. At this time, we've only tackled one collection, but it's a good one, and we sincerely hope that you'll love it.
---
Gustave Doré (1832-1883) was a fabulous artist in his day, and his Biblical wood carvings are some of his best known works. We've taken 221 of these images, carefully lightened them into something that we hope will be a great addition to your coloring book collection. They also make great gifts for your colorful friends. Hopefully, you'll enjoy them!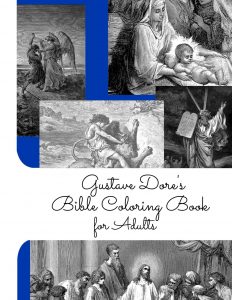 Gustave Doré's Bible Coloring Book for Adults (The complete collection)
Available on Amazon
Gustave Doré's Old Testament Coloring Book for Adults
Available on Amazon
Gustave Doré's New Testament Coloring Book for Adults
Available on Amazon
Gustave Doré's Torah Coloring Book for Adults
Available on Amazon
Gustave Doré's Harmonic Gospel Coloring Book for Adults
Available on Amazon
---