Because who doesn't love a good coloring book?
Jawbone Digital has been republishing classic Christian books since 2011, but we've recently stepped into the adult coloring book market. At this time, we've only tackled one collection, but it's a good one, and we fully anticipate that you'll love it. If this turns out to be a successful venture, we're likely to pursue other collections in the future. We're looking at some other Biblical illustrations, or maybe John Bunyan's "Pilgrim's Progress." We're exploring possibilities, but if you've got some ideas, we know that our best ones usually come from our customers.
Give this a look, and let us know what you think!
---
Gustave Doré (1832-1883) was a fabulous artist in his day, and his Biblical wood carvings are some of his best known works. We've taken 221 of these images, carefully lightened them into a more colorable form, and think that may be a great addition (or beginning!) to your coloring book collection. They also make great gifts for your colorful friends. Hopefully, you'll enjoy them!
To get a printable sample of this work, visit this link, and we'll send you 20 printable sheets so you can know what you're getting beforehand.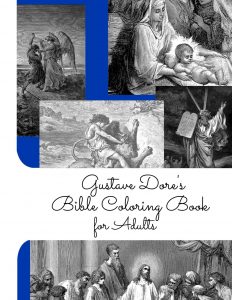 Gustave Doré's Bible Coloring Book for Adults (The complete collection)
Available on Amazon
Gustave Doré's Old Testament Coloring Book for Adults
Available on Amazon
Gustave Doré's New Testament Coloring Book for Adults
Available on Amazon
Gustave Doré's Torah Coloring Book for Adults
Available on Amazon
Gustave Doré's Harmonic Gospel Coloring Book for Adults
Available on Amazon
---